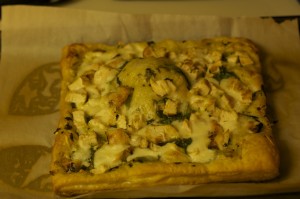 2 sheets frozen puff pastry, thawed
1 head garlic, peeled
1-2 Tbs olive oil
½ cup Fresh basil leaves, chopped
3-4 chicken breast (1lb), cooked and diced
1 cup mozzarella, shredded
2 Tbs Parmesan , grated
Pre-heat the oven to 400˚F.
While the oven is heating, thaw the puff pastry and peel the garlic. Put the garlic on a baking sheet and bake until soften and golden brown, 10-15 minutes.
Line two baking sheets with parchment paper. Unfold the puff pastry onto the lined sheets and stretch it out a bit. Prick all over with a fork to prevent the pastry from rising too much.
Brush the olive oil onto the pastry, then top with the chopped basil.
Top with the diced chicken and then the mozzarella and parmesan cheeses.
Bake for 15-20 minutes--until the cheese is melted and nicely browned.