Spicy Sausage and Penne Casserole with Broccoli Breadcrumbs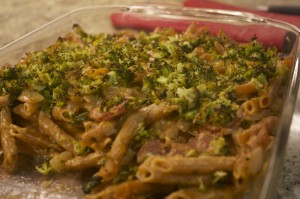 12 oz Box of whole wheat Penne pasta
1 Package of andouille sausage, thinly sliced (about 12 oz)
½ onion, chopped
1 Red bell pepper, chopped
2 Tbs butter
2 Tbs flour
1½ Cups Milk
2 Cups Shredded Cheddar Cheese
1 tsp Creole seasoning
A good grinding of pepper
2 medium broccoli heads, finely chopped
2 Tbs olive oil
Preheat oven to 350.
Spray a 2-quart casserole.
Cook pasta according to package directions; drain, rinse, and set aside.
In a large skillet, cook the sausage with onion and red peppers until things start to brown.
Put the mixture on a plate.
Melt butter in the same skillet over medium heat
Stir in flour.
Gradually add the milk
Add creole seasoning.
Cook, stirring constantly, until thickened.
Add the cheese and stir until melted.
Add salt and pepper to taste.
Stir in the drained pasta and sausage mixture.
Pour into the prepared casserole dish.
Bake for 20 minutes.
While that's cooking, chop the broccoli and toss with olive oil.
Top the casserole with the broccoli and bake for another 10 minutes.
Recipe by
Meals We Like
at https://www.mealswelike.com/2014/02/08/spicy-sausage-and-penne-casserole-with-broccoli-breadcrumbs/